Business
Restaurant cleaning and disinfection program for their kitchens
Cleaning and disinfection program for restaurants and their kitchens
In order for a place to offer basic hygiene and safety conditions to all its customers, it is important to have proper restaurant cleaning and disinfection of its kitchens. It must be clear that public health is a factor that can make your company continue to grow or disappear in the blink of an eye, in addition to influencing the safety of workers.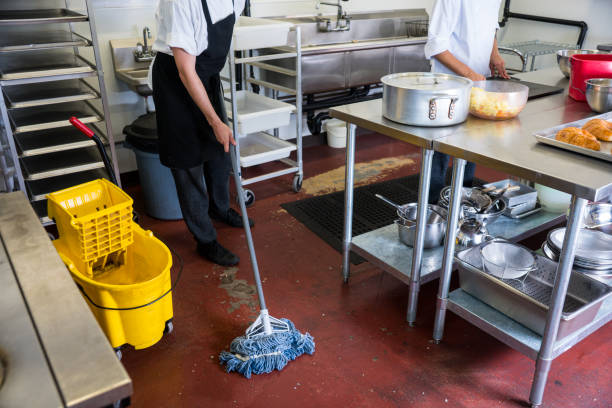 When talking about a kitchen cleaning and disinfection plan, these values ​​increase, since a large amount of food is handled every day that customers eat. If these are in poor condition, diseases and problems for the premises can occur.
Information 
1 Kitchen and restaurant cleaning regulations

2 How to clean a restaurant kitchen?

3 How to clean and disinfect the kitchen?

3.1 What phases exist in cleaning?

3.1.1 Prewash

3.1.2 Washing

3.1.3 Rinse

3.1.4 Disinfectant

3.1.5 Second rinse

3.2 What characteristics do cleaning products have?
Kitchen and restaurant cleaning regulations
We are convinced that if you were given the choice between eating in a restaurant that looks clean and one that does not, you would choose the first one, even if the quality of its food is below. Nobody feels comfortable when hygienic conditions are not appropriate.
It is important to carry out a cleaning and disinfection program in a kitchen after each working day, especially in those elements that are continuously in contact with food.
The health regulations for restaurants in Australia establish different standards that may vary depending on the Autonomous Community in which you are located. One of the most important factors is that anyone who is going to handle food has a card that accredits him for it.
In addition to the washing standards that must be carried out in all areas of the restaurant, public health must be ensured. Cleaning and disinfection programs are very important, as no one wants a pest to ruin their business and/or career.
How to clean in a restaurant kitchen?
In order for all the elements found in the kitchen to comply with the stipulated sanitary levels, the following standards must be met:
Kitchen utensils must be

easy to disinfect and wash, discarding materials such as wood.

There should be

easy access

to improve the level of cleanliness.

Food handling

areas must have hot and cold water and antibacterial and single-use towels.

The

protocol for cleaning and disinfecting premises

includes cutlery and crockery, which must be sanitized.

Sanitary

hygiene regulations in kitchens

warn that the place where food is stored must be located in a cool and ventilated place.

Trash receptacles

must be foot-operated and washable.
How to clean and disinfect the kitchen?
For the professional cleaning and disinfection plan in the hospitality industry to be carried out correctly, two basic actions are necessary: ​​cleaning and disinfecting.
Cleaning is defined as the procedure by which dirt and traces of organic matter are removed from a surface.
Disinfection consists of applying a chemical product so that the cleaned surface is free of microorganisms that have not been eliminated by cleaning. It is for this reason that all kitchen utensils must be introduced at a temperature equal to or greater than 80 degrees.
What phases exist in cleaning?
The phases of cleaning restaurants, utensils, and equipment can be distinguished in:
Prewash
It is necessary that before proceeding with the cleaning of utensils, the remains of dirt are removed and soak them in hot water to remove any adhered dirt.
Washed
With detergent and hot water, you can dissolve dirt on plates, spoons, forks, etc.
Cleared up
Abundant drinking water is used so that the remains of dirt and detergent are removed.
Disinfectant
They try to eliminate the bacteria that still remain.
Second rinse
Depending on the product used, a second rinse may or may not be necessary.
What characteristics do restaurant cleaning products have?
The products to clean the kitchen must meet certain standards that it is necessary to know. The first thing is that they must be stored in separate cabinets from food, to avoid contamination.
Cleaning products should never be changed, as this can lead to confusion about their content, especially in other containers that have had or have food and/or drinks.
A little professional cleaning maintenance must be carried out to check that the cleaning products are in good condition. Thus, when starting the phases of thorough cleaning and disinfection of a kitchen, it will be done correctly, avoiding sources of contamination.
An example may be when you wash the glasses with a product that is not developed for that purpose, it is possible that they partially do the job, but microorganisms that are not visible may remain, causing the restaurant  cleaning process to fail.
If you need to clean and disinfect the kitchen of your restaurant, it is important to have a company that is dedicated to it so that the results are the best and the safety of your customers is guaranteed above all.